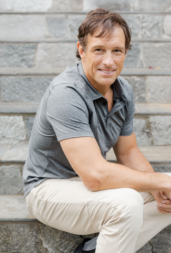 Conall Barr is a licensed BC home inspector and member of the Home Inspectors Association of BC; and has been inspecting homes in the Lower Mainland since 1999. Having performed over 6000 home inspections, Conall is also certified and experienced in commercial property inspections of a wide spectrum, including warehouses, office buildings, retail space, multifamily residential buildings, and churches. He holds a level one certification in Infrared Thermography, as well as training in Home Energy Evaluation.
Conall Barr Home Inspections will provide you with a detailed report of your property presented in a clear, easy-to-understand manner, complete with photos and markings to help you make an informed and confident decision about the purchase. Reports are typically provided within the same day.
Conall annually rides the inspiring Tour de Cure, BC's biggest fund-raising cycling event, in support of the BC Cancer Foundation and specifically childhood cancers research.
Conall Barr Home Inspections looks forward to being your partner in a confident decision.
---
Paul Friesen
604.360.3359
paul@ifinditinspections.ca
ifinditinspections.ca
Paul is a certified, licensed, and Registered Home Inspector (RHI) with the Canadian Association of Home and Property Inspectors (CAHPI). He began his career as the Project Manager for a residential renovation company where he managed and renovated turn-of-the-century homes. Following this, he gained his most valuable experience working for the City of Richmond's bylaw enforcement team. Working in the field, Paul visited job sites and worked with builders to ensure they were following local bylaws. Paul saw first-hand what building conditions are in the field and felt he could use his construction experience to do more to protect home owners as an independent home inspection consultant than he could enforcing local bylaws. Paul makes client safety his top priority; protecting you and your investment while offering exceptional customer service. His experience with building requirements, in conjunction with his ongoing training as a Home Inspector, sets Paul apart as a premier Home Inspector in BC today and founder of I Find It Inspections. 
---
Rick Buchamer
604.983.2347
info.buchamer@telus.net
rickbuchamerinspectionservices.com
Rick is president of Rick Buchamer Inspection Services Ltd. (RBIS), one of the most successful, professional and independent building inspection companies serving the lower mainland, since 2005. RBIS offers clients the highest technical standards, in depth knowledge and experience, adherence to strict code of ethics and the very best in customer service and communication skills. RBIS offers years of success in the home building and renovation industry. Highly respected in the industry, Rick has performed thousands of property inspections and has earned the right to work with many of Vancouver's top realtors' and their valued client's. Rick's reputation for professionalism has given a high referral rate from previous clients.